Welcome to Pony Parties and Friends.

Amanda Taylor does an amazing job filling the shoes of everyting. Director, farm hand, laborer, website developer, admin, accountant, horse trainer, educator, and probably thousands more jobs I can't think of at the momement. If you can't reach her by phone she is likely making sure that her animals are well taken care of fed, happy and healthy. Don't panick just email her at partyponies@mtaonline.net. She will likely get back to you in the wee hours of the night after her long day. Just be patient. She loves her career, and wants to make sure every client is well taken care of

All events and correspondence regarding events and visits to the farm are done by email. This is the best way to make sure that all parties have all information regarding thier event and so that we can best accomodate your needs. Once we have recieved your emailed request for a visit prior to your booking we will email you dates and times we are available. If you do not email your request we are unable to make these arrangments

Once you have recieved a quote from us for your event your payment is due immediately upon receipt of our invoice. Your quote is good for 14 days from the date it was emailed to you. Should you decide on day 15 that you want to book with us you will recieve a new quote. Our apologies but cost for fuel, feed and other business expenses are changing daily this summer. In order for us to cover our operating costs we have to adjust our prices accordingly. .

Mobile Horse rides are 2 hours, Mobile Petting Zoo is 3 hours, Horse Rides and Petting Combined are 3 hours. Unfortunately we are not able to offer discounts for events that are below our minumums. The cost of vetcare, feed, insurance, houseing, fuel etc is the same for us regardless of whether we are at your event for 2 hours or 3 hours. Our minumum requirements have been established to cover our basic needs to ensure we have healthy, happy animals to bring to your events year after year.

Please use the navigation to the left and select parties for more information about our party options.

Party Ponies and Friends is operated by the Taylor Family .

The Taylors have dedicated a significant part of thier lives to offering educational opportunities to students and adults alike in a variety of animal care, sciences and farm experiences.

The Learning Farm in Palmer is Alaska's only mobile Farm Life Education Program taught by certified teachers. This program is used and recognised by a vast array of homeschool families and can be paid for thru your allotment.

Our Mobile Education program is used throughout the Mat Su Valley School District, Anchorage School District and with a variety of Summer Camp Programs including CampFire USA and TrailSide Discovery Camp.

Throughout the last 20 years we have found that there is a need for community involvement exposure and education about livestock, agriculture and Ranching. As so many American farms continue to disappear and the ever growing destruction of farmland in Alaska continues, we have found that education about where your food comes from is vital. We also offer pony rides, interactive nativity scenes( our handlers will dress in nativity attire while your kids enjoy petting),a petting zoo, and a variety of pony parties for just about any event.



Our main purpose is to entertain folks with our gentle horses and their barnyard friends. We offer a variety of options to suit most any request.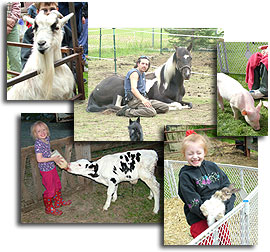 Since every situation is unique, we do our best to personalize our efforts to provide a safe, exciting, and memorable experience for all participants. We have been blessed with the opportunity to meet so many new and wonderful people.

Our passion and love here at Party Ponies and Friends is to place ourselves into the community where we are needed most, assisted living centers, churches, elderly homes, educational programs, special needs programs, summer camps and more.

Party Ponies and Friends can accommodate almost any event wedding receptions, company picnics, childrens' birthday parties, fund raisers. You name it we can probably do it.

Come meet all our mini friends, mini pigs, potbelly piglets, ponies, goats, sheep, ducks, bunnies, chickens. If you can find it on a farm you can find it with Party Ponies.

We offer fun for all ages!