We offer a variety of packages that include everything from a petting zoo, horse rides, even interactive nativity scenes.

A wonderful idea for a kids party, company picnic, or church social! We've even done wedding receptions.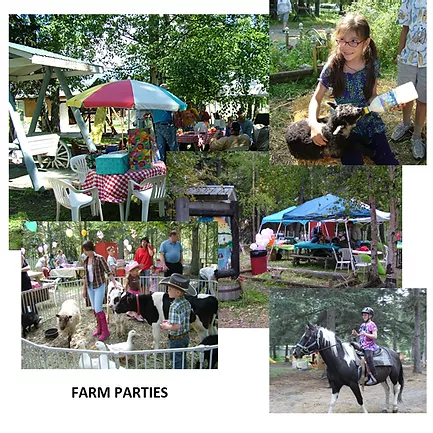 Want us to teach we have options for schools too!

We have both mobile party options and options for the farm. We can setup in backyards, driveways, culdesacs and any Anchorage or Matsu Valley Park

All farm parties are located in Palmer near the Fair Grounds. The parties are 3 hours located outside. For that slightly rainy and sunny weather we have an outdoor picnic area and barbecue grill, popup tents for shade or rain if needed, The petting area includes 12 animals for petting and extras during the spring and throughout the summer as new babies are born, Bottle feeding during the event during birthing seasons, and a horse for horse rides. Our petting animals include but isn't limited to a variety of goats, kids, sheep, lambs, bottle fed calves, pigs, piglets, ducks and miniature horses.

Farm parties are provided in cooperation with a local Farm. All reservations are confirmed by email. All visit requests are by email.

Farm Parties are located in a rustic farm setting on an original Dairy farm that was once part of the dairy coop.