Party Ponies and Friends has been giving back to the community for over 20 years.

Programs listed here are either current or past events we have donated or discounted for the community.

Many of the organisations listed here depend on donations from the community to support the programs they offer to the public. We encourage anyone able to contribute to their programs and events or to sponsor our attendance to contact them directly . If you need a contact name and number we are happy to help just dash an email and we can put you in touch.


Thank you to all the wonderful staff with these organisation for the work you do in bringing valuable events that affect quality of life and provide experiences for those that otherwise would not have these expereience.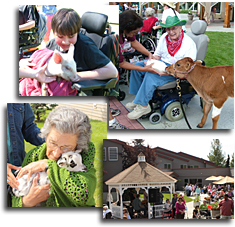 Party Ponies and Friends currently supports:


Anchorage Downtown Partnership: Summer Solstice
Muscular Dystrophy Summer Programs ,if you would like us to return to this event contact MDA at (907) 458-2008)
Providence Horizon House, if you would like us to return to this event contact them directly at (907) 212-5340
Various Anchorage School District Programs
CampFire USA, If you would like us to provide our animals for these programs please contact them directly at (907) 279-3551
Mary Conrad Center
Anchorage Charity Walk ( no longer operating)
Various Church Outreaches: If you would like our particpation please contact these churches directly

Muldoon Community Assembly

South Anchorage Assembly of God

Rabbit Creek Community Church

Faith Christian Community Church: Fall Carnival

Nugens Ranch: Rehabilitation Center
Kulis Air National Guard Family Programs no longer operating
Hillcrest Learning Center
Autism Outreach
Cancer Society


Boys and Girls Club


Head Start


Anchorage Art Museum


Mountain View Community Programs


Mat Su Valley School District