Party Ponies and Friends participates each year in the Charity Walk,also known as the "5K graze to raise". This event is usually at the beginning of May and has been held at The Dena'ina Center at 600 7th avenue.

This is a great way to support local Alaska Charities!

For more information and how to register please visit http://www.alaskacharitywalk.org/Information.html
Thanks to all our volunteers participating in our youth programs we are able to offer 3 completely free events each year as well as several discounted events to the community.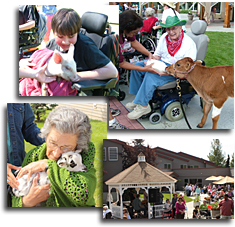 Party Ponies and Friends currently supports:


Muscular Dystrophy Summer Programs
Providence Horizon House
Various Anchorage School District Programs
CampFire USA
Mary Conrad Center
Anchorage Charity Walk
Various Church Outreaches:

Muldoon Community Assembly

South Anchorage Assembly of God

Rabbit Creek Community Church

Faith Christian Community Church: Fall Carnival

Nugens Ranch: Rehabilitation Center
Kulis Air National Guard Family Programs
Hillcrest Learning Center
Autism Outreach
Cancer Society


Boys and Girls Club


Head Start


Anchorage Art Museum


Mountain View Community Programs


Mat Su Valley School District


Not all of our community programs use our free or discounted services every year and we are always looking for more ways to help the community so if you know of a program that you want our participation please email us today.